BED BUG TREATMENTS - SHELBY TOWNSHIP, MICHIGAN
CALL 1-866-453-7221
OR TEXT HERE
VETERAN-LED, LOCALLY-OWNED AND FAMILY-OPERATED. WE'VE TREATED HOMES AND BUSINESSES FOR BED BUGS IN SHELBY TOWNSHIP AND MACOMB COUNTY FOR OVER 20 YEARS.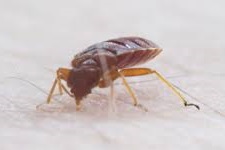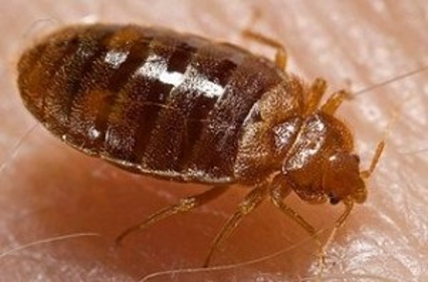 WHAT DO THEY LOOK LIKE?
DESCRIPTION
– Adult bed bugs are about 1/4" or about the size of an apple seed.
– Adult bed bugs are flat, oval-shaped and have a reddish-brown color.
– Newly hatched nymphs are nearly colorless.
– Nymphs closely resemble adults but are smaller.
– Bed bug eggs are white and are about 1/32" long.
– Bed bugs may give off a sweet, yet unpleasant smell.
Schedule Your Bed Bug Inspection or Get A Quote Today!
-Bed bugs have six life stages (five immature, one adult).
– Females can lay 1-12 eggs per day or 200-500 eggs in a lifetime.
– Bed bug eggs hatch in 6 to 17 days and nymphs can start to feed right away.
– The life cycle (from egg to adult) takes anywhere from five weeks to four months, depending on temperature and availability of food (blood).
– When temperatures are 70 to 82 degrees, their life cycle development occurs most rapidly.
– Bed bugs are nocturnal and feed exclusively on blood.
– If seen during the day, it may mean that there is a heavier level of infestation.
– Bed bugs can live for a year without feeding, however they typically try to feed every five to ten days.
Services are customized to address the pest activity at your home. We use products that provide control for an extended period of time.
When it comes to your business, pests are more than just an annoyance. Pests can pose serious health and sanitation concerns.
For continuous protection from pests, we offer monthly, every-other-month, quarterly and holiday-only maintenance programs.
See why Southeast Michiganders have chosen Regal Pest Control as their Pest Management Provider.
Family Operated
Locally Owned
We are a locally-owned and family-operated company. We've proudly serviced Southeast Michigan residents for 20 years.
Unmatched Customer Service
Customer service is an integral part of our formula in providing a premium service. Service that's fast, friendly and responsive.
We offer service programs to protect your home or business. Solutions without the long-term contract attached.
Call 1-866-453-7221 today to schedule your VA pest inspection or to get a quote!
Locally owned. Family operated. Servicing Southeast Michigan for over 20 years.