Regal Pest Control technicians are fully licensed and trained to remove the groundhogs on your property. Groundhogs can cause extensive turf and soil damage on your property.
By contacting our wildlife management professionals, you are doing more than simply removing the wildlife on your property. A professional uses the correct bait (which minimizes the chance of catching neighborhood pets and other non-target wildlife), the correct traps (using a large enough or small enough trap to ensure effective trapping and the safety of the animal trapped) and removes the animal in the appropriate way.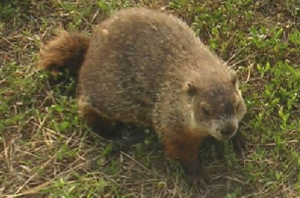 Our five step process to remove the groundhogs on your property.
There are a variety of reasons why groundhogs den in your home, structure or around your property. Every quality service begins with a thorough initial inspection. Our technicians will look for entry-points and any environmental or construction issues that may allow access or that could contribute to the present or future groundhog problems you're having.
After our initial inspection, our technicians will assess all reasonable solutions and will review the approach we're recommending to resolve the issue. Our technicians will go over the scope of our service and will answer any questions you may have regarding the removal of the groundhogs and the exclusion services we can or cannot offer.
Live trapping is the preferred method for removing the groundhogs on your property. Live traps are designed to capture the groundhog without physically harming the animal. These traps work by using a trap door or gate which is propped open. The door or gate is tripped by the animal stepping on the trigger-plate, which is located in-between a non-poisonous bait and the trap door or gate.
Follow up services are scheduled to check the traps for any wildlife caught or to rebait, reposition or to add additional traps as needed. We typically conduct five services total for our live trapping services. Service visits are spaced 24 hours apart to minimize the amount of time that the animal is in the trap.
There are instances where we can install materials to temporarily exclude entry-points after trapping services have been conducted. However, we always determine whether we can or cannot offer this service at your location by conducting an on-site initial inspection. There are instances where we will not be able to close off entry-points as it may be more appropriate for a licensed contractor to offer you that service.
Schedule Your Groundhog Inspection or Get A Quote Today!
Groundhog Habitats on Your Property
Groundhogs can inhabit a variety of areas on your property. The following are common areas where groundhogs may be found.
See why thousands of Southeast Michiganders have chosen Regal Pest Control as their pest management provider.
Family Operated
Locally Owned
We are a locally-owned and family-operated company. We've proudly serviced Southeast Michigan residents for 20 years.
Unmatched Customer Service
Customer service is an integral part of our formula in providing a premium service. Service that's fast, friendly and responsive.
We offer service programs to protect your home or business. Solutions without the long-term contract attached.
Locally owned. Family operated. Servicing Southeast Michigan for over 20 years.