How Gull Wire Systems Work

Seagulls cannot land on wires and will not land on slopes. Seagulls typically roost on
the gutters, so we will protect those facing the lake using vertical clamps, which are
installed on the outer edge of the gutters, at approximately 8 foot intervals. These
vertical clamps will support one nylon-coated stainless-steel wire, that will be
suspended six inches above the gutter lip. Since the seagulls cannot land under this
wire or on the wire itself, this will permanently prevent them from roosting in those
areas.
This installation will not trap leaves or other wind-blown debris that would clog gutters
and drains, is non-lethal, non-chemical and is a highly effective mechanical control to keep seagull off of the area where the gull wire is installed.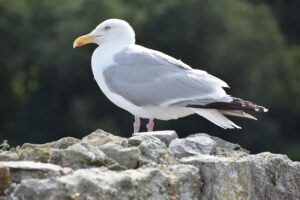 Schedule Your Inspection or Get A Quote Today!
See why thousands of Michigan homeowners and businesses choose Regal Pest Control as their pest management provider.
Family Operated
Locally Owned
We are a locally-owned and family-operated company. We've proudly serviced Southeast Michigan residents for 20 years.
Unmatched Customer Service
Customer service is an integral part of our formula in providing a premium service. Service that's fast, friendly and responsive.
We offer service programs to protect your home or business. Solutions without the long-term contract attached.
Frequently Asked Questions
Locally owned. Family operated. Servicing Michigan for over 20 years.