PEST CONTROL & ANIMAL REMOVAL SERVICES
SALEM TOWNSHIP, MI
CUSTOMIZED SERVICES FOR YOUR HOME OR BUSINESS
Regal Pest Control has customized solutions for both residential and commercial customers in Salem Township and surrounding communities throughout Washtenaw County. We offer services for over 30 types of insect pests as well as services for rodents, birds and urban wildlife removal. Our service plans are customized to address the current or potential pest concerns at your home or business. Our technicians will thoroughly inspect in and around your property to identify any existing conditions that may be conducive to pest activity. We will outline a service approach that's best suited to address the pest concerns at your home or business.

SALEM TOWNSHIP ANIMAL REMOVAL SERVICES
LIVE TRAPPING AND ANIMAL CONTROL SERVICES
Regal Pest Control specializes in animal removal and control services for both residential and commercial customers throughout Salem Township and Washtenaw County. We provide services for raccoons, skunks, opossums, moles, chipmunks, groundhogs, rats, mice, squirrels, birds, snakes and voles.
By contacting our wildlife management professionals, you are doing more than simply getting rid of the animals on your property. A professional uses the correct bait (which minimizes the chance of catching neighborhood pets and other non-target animals), the correct traps (using a large enough or small enough trap to ensure effective trapping and the safety of the animal trapped) and removes the animal in the appropriate way.
EFFECTIVE TREATMENTS WITH AN INTEGRATED APPROACH
Interior applications may not be necessary to provide effective control for certain pest issues. Our technicians incorporate an Integrated Pest Management approach (commonly referred to as I.P.M.) when conducting services. By utilizing our existing knowledge of pest biology (life cycles, habits, ect.) and by identifying existing areas that may contribute to pest activity, such as food or water sources and entry-points, services can be conducted in an environmentally sensitive approach.
WE SOLVE MANY PROBLEMS WITHOUT LONG-TERM CONTRACTS
Some pest issues may require multiple service visits, however we can solve many issues without the commitment of a long-term contract. By constantly reviewing newly available products and by utilizing the most advanced products available to us, we can often reduce the number of service visits necessary to address many of the pest concerns at your home or business.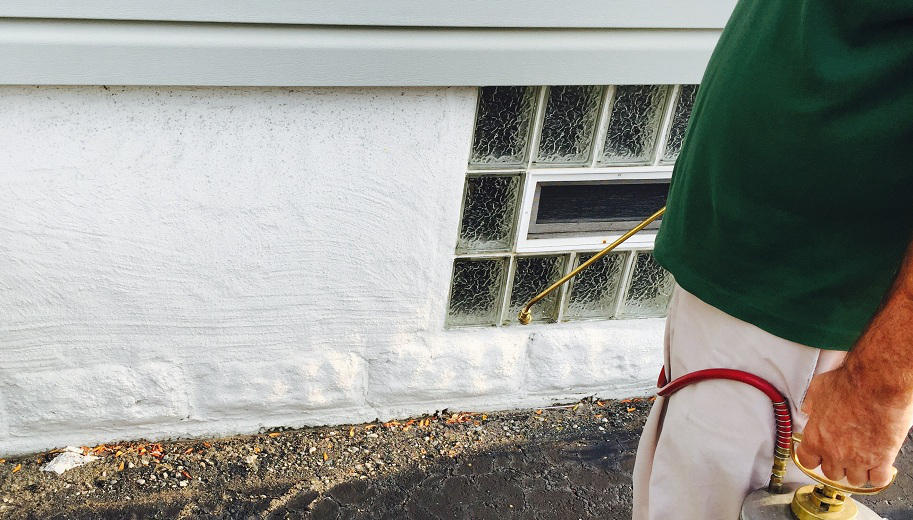 MONTHLY, EVERY-OTHER-MONTH, QUARTERLY AND HOLIDAY-ONLY MAINTENANCE PROGRAMS
CONTINUOUS PROTECTION FROM A VARIETY OF PESTS
For continuous protection from rodents and insect pests, we offer monthly, every-other-month, quarterly and holiday-only maintenance programs for our customers in Salem Township and throughout Washtenaw County. Our pest control professionals can explain the benefits of our different service programs and can customize a program based on your pest control needs. All of our maintenance programs feature free follow up services, are covered by a 100% satisfaction guarantee and offer an unparalleled level of customer service and support.

TREATMENTS THAT PROVIDE LONG-TERM PROTECTION AGAINST PESTS
For pest issues that require perimeter applications, we typically use micro-encapsulated products. These types of products have several benefits when controlling insect pests. The micro-capsules extend the life of the product (providing your home with long-term protection against pests), they stick to the surface they're applied to (delivering a fast knock-down of the pest and providing more stability with the placement of the product) and are virtually odorless.
Many of the micro-encapsulated products we use are labeled for over 30 types of insect pests. They can also be used on porous and non-porous surfaces without staining. When applied in the interior of the home or business, these products are used along baseboards and perimeter areas where many pests commonly crawl. On the exterior, they are applied around several key entry-points to provide effective control of pests on the outside while keeping pests from coming in.
SERVICES FOR A WIDE RANGE OF PEST ISSUES
OVER 30 TYPES OF PESTS
Ants, Bed Bugs, Bees, Beetles, Bird Control, Boxelder Bugs, Cockroaches, Crickets, Drain Flies, Earwigs, Fleas, Flies, Fruit Flies, Gnats, House Centipedes, Indian Meal Moths, Mice, Millipedes, Mites, Mosquitoes, Moths, Rats, Silverfish, Sowbugs, Spiders, Springtails, Stink Bugs, Termite/Pest Inspections, Ticks, Wasps, Weevils, Wildlife and many other pest issues.
CALL 1-866-453-7221 OR CLICK OR PRESS HERE TO REQUEST A CALLBACK TO SCHEDULE SERVICE OR TO GET A FREE ON-SITE ESTIMATE