COMMERCIAL BIRD CONTROL SERVICES

Birds and their droppings can carry over 60 different transmissible diseases. Regal Pest Control offers a wide range of bird control services to address bird issues for Michigan businesses. The products we use will deter or exclude birds from roosting, perching or nesting in the areas where the products are installed or applied. We have solutions for issues as small as birds nesting in one area to large-scale bird control applications.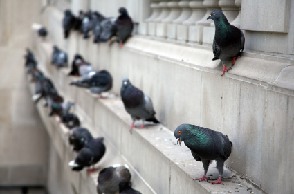 OVER 20 YEARS IN BUSINESS
From exclusionary netting to spike to springwire systems, we've learned a thing or two along the way.
We offer a wide-variety of bird control products and services.
ALL INSTALLATIONS ARE GUARANTEED. ALL PARTS AND LABOR.
Regal Pest Control guarantees that the products we install will be free from defects in materials and workmanship for a minimum of one year from the date of installation (some limitations apply, call for details).

If there are any maintenance issues during the guarantee period, Regal Pest Control will return at no cost and repair and/or replace any deficiencies in the installation. We also offer an optional yearly maintenance program. This program consists of an annual inspection and repairing and/or replacement of any faulty components in the bird control installation as needed. We will ensure that the bird control installation will continue to repel and/or exclude the target bird species.
Schedule Your Bird Inspection or Get A Quote Today!
Regal Pest Control offers a wide-range of services to remove the pest birds at your location.
See why thousands of Michigan homeowners and businesses choose Regal Pest Control as their pest management provider.
Family Operated
Locally Owned
We are a locally-owned and family-operated company. We've proudly serviced Southeast Michigan residents for 20 years.
Unmatched Customer Service
Customer service is an integral part of our formula in providing a premium service. Service that's fast, friendly and responsive.
We offer service programs to protect your home or business. Solutions without the long-term contract attached.
Frequently Asked Questions
Locally owned. Family operated. Servicing Michigan for over 20 years.